The Springs Resort and Spa at Arenal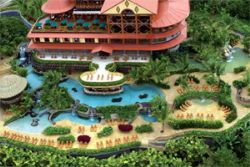 The Springs Resort and Spa at Arenal
With a spectacular view of the Arenal Volcano, natural hot and cold springs, four unique dining experiences, and an impressive full service spa, The Springs Resort and Spa at Arenal promises to overwhelm you in every aspect of quality, service and design. Every guest room and villa features a private terrace with balcony and picturesque volcano view.
The Springs Hotel Dining:
...

Pleasant Holidays, in business since 1959, is one of the leading travel companies serving Hawaii, Mexico, the Caribbean, Costa Rica, Continental United States, Tahiti and the South Pacific, sending more than 350,000 visitors to its destinations annually from over 260 cities nationwide.
From the design to the operation of our travel programs, our commitment is to provide you with an enjoyable and memorable journey. Our dedicated, knowledgeable, and well-trained team has perfected thi
...