Tabacon Grand Spa Thermal Resort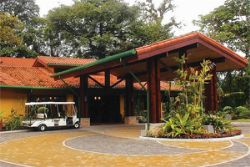 Tabacon Grand Spa Thermal Resort
Tabacon Grand Spa Thermal Resort offers the unique combination of the energy of the active Arenal Volcano, the heat of the Tabacon Hot Springs and the purity and mystic of the surrounding rainforest. The hotel, located at the base of the Arenal Volcano, features 102 beautifully appointed rooms and suites with handicrafts and furnishings made by Costa Rican artisans.

Rates!-->
...

Pleasant Holidays, in business since 1959, is one of the leading travel companies serving Hawaii, Mexico, the Caribbean, Costa Rica, Continental United States, Tahiti and the South Pacific, sending more than 350,000 visitors to its destinations annually from over 260 cities nationwide.
From the design to the operation of our travel programs, our commitment is to provide you with an enjoyable and memorable journey. Our dedicated, knowledgeable, and well-trained team has perfected thi
...